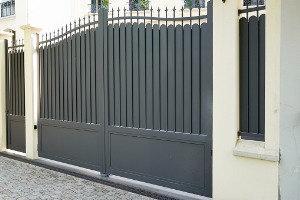 Top Reasons to Choose Aluminum Fencing in Champaign IL
Hohulin Fence can help if you want to learn more about the benefits of aluminum fencing in Champaign IL. In fact, we have helped customers across Illinois with superior products and services since 1897. So, give us a call today at 309-965-2241 to receive a free estimate for your fencing needs.
Hohulin Fence understands that you want to do your homework before you spend the money to install a fence. Therefore, our local, family-owned company wants to provide you with the information you need for your research. Besides, we know customers feel more satisfied when they know they have made an informed decision. Consequently, more homeowners, home builders, and commercial property owners trust us with their fencing over everyone else. Our company helps you take the time that you need to get all the details simply perfect. As a result, we have established a tradition of excellent customer service for over 120 years.
Contact us now to get a free quote or ask us a question. Plus, you can use our website for more helpful hints on our blog or to learn more about us.
Stay Low Maintenance with Aluminum Fencing in Champaign IL
Most of us customers do not want to spend a lot of time and effort on maintaining their fence. Consequently, you can get the maintenance-free solution you want with aluminum fencing in Champaign IL. Unlike wrought iron fencing, aluminum will not need a coat of paint every few years. In fact, our aluminum fencing receives protective coats, including a powder coating that will last without the need for repainting.
Improve Security with Aluminum Fencing
Criminals and trespassers often can easily scale wood fencing and gain access to your property. However, you can keep unwanted guests out with aluminum fencing in Champaign IL. In fact, aluminum fencing with sharp ornamental toppers provides a lot harder barrier for criminals to breach. In addition, aluminum fencing can allow for customization to minimize gaps and improve privacy.
Maintain an Attractive Look with Aluminum Fencing
You want to buy a product that will maintain a great look over time. Thus, rust can become a problem over time and provide unsightly spots with certain fencing materials. However, aluminum does not rust like iron and other ferric metal fencing. Because it is not a ferric metal such as iron, aluminum fencing offers you a solution safe from oxidation and rust.
Aluminum Fencing is Affordable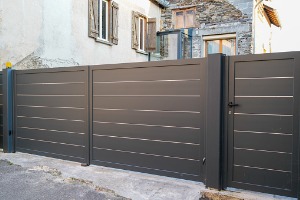 The lower cost of aluminum fencing makes it attractive to many customers. Aluminum fencing costs much less than other materials. In fact, wrought iron products feature extravagant prices because they must undergo a fabrication process in a shop with more expensive metal. Meanwhile, aluminum fences stay affordable because they are manufactured. Therefore, you do not need to spend a lot to get great aluminum fencing in Champaign IL.
Get a Free Estimate
Hohulin Fence can help you shop and research great products when it comes to aluminum fencing in Champaign IL. So, request a free quote now by giving us a call at 309-965-2241. Plus, you can also get a free estimate through our online contact form.