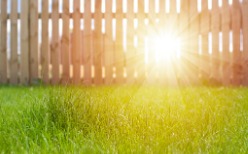 We Install Fences Peoria IL Loves
If you're a Peoria home or business owner and need a fence, look to the experts in the local area: Hohulin Fence. Why? We offer unparalleled service, attention to detail, friendly service and quality products that last. Plus, we always give you exceptional craftsmanship. So, for installation of fences Peoria IL loves, come to us for fences designed for commercial use and residential use. Our company is both local and dependable, so you get the best of both worlds. As respected manufacturers of chain link fences, vinyl fences and privacy fences, you will make the right choice with us.
Family-Owned = Personalized Attention
With a history of service going back 120 years, you know you're getting the highest quality fences in Peoria IL. Our team knows what it takes to ensure 100 percent customer satisfaction. We are known for providing the highest level of satisfaction and service in the fencing industry.
Fences are our most popular products, but we offer a wide range of products, such as:
Residential products
Wood fencing
Residential kennels
Residential railings
Vinyl fencing
Chain link fencing
Ornamental fences
SimTek fencing
Hot-wired fencing
Gates and operators
Commercial products
Highway guard rails
Chain link fences
Rental panels
Commercial railings
Ornamental fencing
Kennels
Athletic fencing
Commercial gates and operators
If you need kennels, highway guard rails, and hot-wired fencing, we offer all those as part of our miscellaneous products.
You Need Us: WHY?
It's simple. We offer: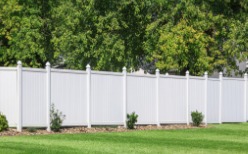 Variety
Quality products
Free estimates
Dependable service
Eco-friendly approach
Family-owned mindset
Proven customer attention
Over a century in business
Exceptional products
Affordable pricing
Fast installation
Personalized service
Also, did you know we were the first to manufacture chain-link fence fabric in the United States commercially? We welcome you to learn more about us here. With headquarters in Goodfield, we offer services to all surrounding communities, including Peoria and Bloomington.
An Environmentally-Conscious Company: At Your Service
It's important to us that we be conscious of our impact on the environment. We take great pride in being a LEED-certified business, using recyclable products whenever we can. Plus, we manufacture all our fences in Peoria IL with 100 percent recyclable materials. You will quickly see the results in our high-quality fencing, gate and railing products.
At Hohulin Fence, we go well beyond the Peoria community for fencing. We are proud to serve customers in all surrounding areas beyond Peoria, such as Morton, East Peoria, Pekin, Bloomington and Springfield. We pride ourselves on our repeat customers. See why we have such a solid reputation in the community!
Contact Hohulin Fence in Peoria IL
In conclusion, to learn more about the fences in Peoria IL that we sell and install, contact us at 309-316-1008. You can also email us at info@hohulinfence.com.