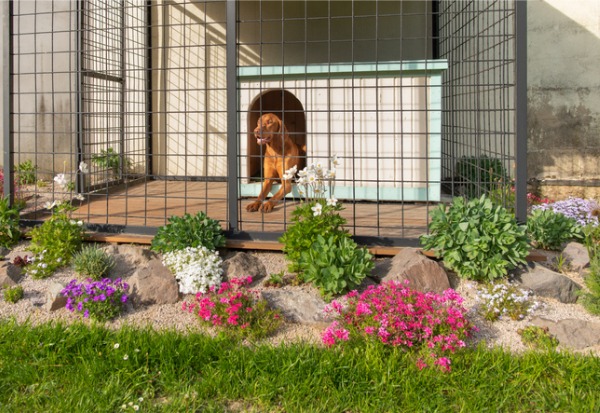 Protect Your Furry Friends with Residential Kennels
Your pets are important. They are a part of your family. That means they deserve a good home. At Hohulin, we understand that you want to be able to give your lovable friends space to roam around but simultaneously keep them out of mischief. That means having quality kennels for your pets. At Hohulin, we want to be a part of caring for your animals. That's why we offer top-of-the-line kennels for pets of all sizes. So, whether you need a short-term or a long-term enclosure, Hohulin offers excellent kennel options.
Why Do You Need a Dog Kennel?
If your yard has the space for one, Hohulin's residential dog kennels and fences are the perfect little homes for your furry friends to stay. Not to mention, dog owners who use at-home kennels see additional benefits when training and caring for their pups. Thanks to the benefits of residential kennels, dog owners can expect:
Security: A dog kennel offers a safe and secure environment for your pet, providing them with their own space where they can feel calm and protected.
Training Tool: Kennels can be great for house-training puppies or introducing a new dog to your home. It helps with establishing rules and boundaries.
Health Maintenance: Kennels can assist in preventing dogs from ingesting potentially harmful substances when unsupervised.
Reduced Anxiety: A well-maintained kennel can serve as a cozy dog retreat, helping reduce anxiety during stressful situations.
Prevents Property Damage: A kennel can safeguard your belongings by keeping an energetic or curious dog contained, especially when they're still learning the house rules.
Personal Space: Just like humans, dogs also need their personal space. A kennel serves as their private area to rest and relax.
Only the Best from Hohulin
With over a century in the fencing industry, Hohulin knows how important it is to have well-built enclosures for your animals. That is why we use excellent materials to ensure a safe and secure environment, with numerous style options for animals of all sizes. For decades, Hohulin has designed and installed countless kennels—both large and small—for our Central Illinois customers. See what our professionals can do for your pets today! Some of our residential kennels' best features include:
Welded Frames: We carefully check every corner of your enclosure's frame, ensuring no rough or sharp edges for you or your dogs to injure themselves.
Galvanized Steel: Our kennels' frames use galvanized steel, special hinges and secure hatches to protect your dog and ensure the enclosure's stability.
Custom Styles: Hohulin can construct a custom kennel fit to you and your dog's preferences. No matter the size or species of dog, our kennels ensure your animals have plenty of space.
Safety Compliant: Hohulin's dog kennel designs comply with all safety requirements and codes for animal ordinances and/or laws throughout Illinois.
Questions About Hohulin's Kennels? Call Today!
If you wish to give your pets a safe and comfortable outdoor space where they stay out of trouble and out of harm's way, Hohulin's residential kennels are precisely what you need! For exceptionally constructed dog kennels in Central Illinois and other fencing products and services, give Hohulin Fence a call today. Learn more about our residential/commercial services or request a quote by contacting 309-965-2241. Hohulin Fence's office is located at 116 S Harrison St, Goodfield, IL 61742.