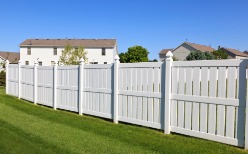 Get a Terrific Dog Fence Peoria IL Owners Want
Whether you just got a dog, have moved into a house, or your old dog fence needs replacing, our professionals at Hohulin Fence are here for you. With 115 years of experience installing fences in the Central Illinois region, you can count on us to design and install a dog fence that serves your unique needs. Give us a call today to chat about how you can get a terrific dog fence Peoria IL owners want.
Built to Stand the Test of Time
Your dog is part of your family, and when you're thinking about a dog fence, you want it to last. When we chat with you during your free estimate, we'll talk about the specifics of your yard, as well as your dog. Do they tend to stay in one area? Or, do they love to run around the entire yard? What size of dog do you have, and how strong are they? We'll take all of these things into consideration when we design your dog fence. Rest assured, we will be using the very best materials available, so in addition to providing safety for your beloved pet, your new fence will also look sturdy, attractive, and durable.
Privacy and More
In addition to serving your needs as a dog owner, your new fence will also give you privacy while in your yard. You won't know what you've been missing until your new fence is installed! There's something especially wonderful about being able to spend time with your furry companion away from the hustle and bustle of the world. In addition to safety and privacy, we're also confident that you'll appreciate the aesthetic of your new fence, especially when paired with any landscaping your yard already has. Our professionals will be sure to plan for existing landscaping when they come up with a design for your new dog fence. If you're a home and dog owner living in Peoria, East Peoria, Pekin, Bloomington, or Normal, we hope you'll give us a call today to start the conversation about your brand-new dog fence.
Contact Us
If you'd like to schedule your free estimate, call us today at (309)965-2241. We are located at 116 S. Harrison Street in Goodfield. If you'd prefer, you can also get in touch with us by filling out the contact form on our website. We look forward to talking with you soon about why Hohulin Fence will help you get a terrific dog fence Peoria IL owners want.