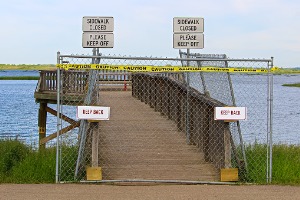 Save Time and Money with Temporary Fencing in Bloomington IL
Hohulin Fence makes it fast, easy, and affordable to add protection and safety to your space with temporary fencing in Bloomington IL. Get a free quote now on our rental panels by calling us at 309-965-2241.
Whether you want to prevent crime at your construction site or get crowd control at your event, Hohulin Fence can help. Our rental panels offer you easy to install, customizable, portable, and short-term solutions when you need barriers. They work perfectly for privacy for a wedding party, herding animals at an off-site pet adoption event, or keeping children from wandering into traffic at a sporting event. Therefore, you can direct foot traffic where you want without spending a lot and wasting time on installation by using our temporary fencing in Bloomington IL.
Contact us today to get a free estimate online for your fencing needs. Plus, you can choose optional features with our rental panels such as windscreens, gates, wire partition panels, and driven-post fencing.
Why Each Construction Site Needs Temporary Fencing in Bloomington IL
The unique challenges involved with construction sites lends itself to the use of temporary fencing in Bloomington IL. Since a project may take only days or weeks, it is not feasible to spend a lot or take much time to install a permanent barrier. Therefore, the best way to prevent thieves from stealing valuable equipment and building materials is to use our construction fencing. In addition, construction companies receive the following benefits:
Workers Get Safer Working Conditions
The Occupational Safety and Health Administration (OSHA) includes temporary fencing recommendations in their standards for construction site safety. Therefore, you can better ensure the health and welfare of workers by using our temporary fencing in Bloomington IL.
You Can Enter and Exit the Site More Easily
When you use temporary fencing in Bloomington IL, you can better funnel traffic flow at your construction site. The barriers create an easy-to-follow path for workers on the site to enter and leave the work area. Plus, it provides valuable direction to emergency responders such as police, fire, and medics in case of a workplace injury or accident.
Keep Debris and Waste Materials Contained Better
Your construction site could face a shutdown or fines if construction debris or waste materials do not stay contained in the work area. Plus, your company could face a lawsuit if wind kicks up debris or waste and it injures a pedestrian walking past the area. Therefore, you can better protect against these sorts of circumstances by using temporary fencing in Bloomington IL.
Get Affordable Crowd Control at Your Event
Seasonal carnivals, fundraising events, or family reunions can add safety and privacy with our temporary fencing in Bloomington IL. Our rental panels help event organizers funnel crowds into or out of designated spaces. So, you can create temporary barriers to keep people away from headline acts or celebrities. Plus, you can create public or private areas, spaces for VIPs, or liquor sales areas. In addition, families can create more private areas for photos at events such as cookouts or weddings.
Youth Sporting Events Can Add Safety
Small children can easily wander into traffic on roads or in parking lots when families attend youth sporting events. However, you can add a layer of safety to these events with temporary fencing. In addition, our customizable and portable rental panels can be placed in spots that keep balls kicked, hit, or thrown out of play from being lost. Thus, you can save money on misplaced sports equipment.
Request a Free Quote on Temporary Fencing
Since 1897, Hohulin Fence has served as a fencing industry leader in Central Illinois. Call us now at 309-965-2241 for a free estimate on your fencing needs. In addition to temporary fencing, we offer both residential and commercial fencing products to fit your property needs and financial constraints.