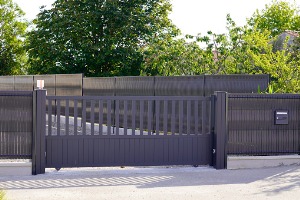 Why You Should Consider Aluminum Fencing in Bloomington IL
If you need more information about aluminum fencing in Bloomington IL, Hohulin Fence is here to help. After all, we have served as the leading seller and installer of commercial, residential, and specialty fencing in Central Illinois since 1897. Call us today at 309-965-2241 to request a free quote.
Hohulin Fence knows you want to make an informed decision before you decide to make an investment on fencing for your property. Consequently, our local, family-owned company wants to offer you the information and advice you need. After all, we want you to feel confident and satisfied with your purchase. That is just the way we do business. Thus, that is the reason homeowners, home builders, and commercial property owners trust us with their fencing over everyone else. We have established a legacy of providing exceptional products and service over the past 120 years.
Contact us now to ask us a question or get a free estimate. Plus, we welcome you to use our website for tips and research on our blog or to find out more about us.
Save Money with Aluminum Fencing in Bloomington IL
The affordability of aluminum fencing makes it attractive to many residential and commercial customers. Aluminum fencing costs much less than traditional wrought iron. Wrought iron products must undergo a fabrication process in a shop with more expensive metal as compared to aluminum fences that are manufactured. Therefore, you can save some money on your investment by asking us about our aluminum fencing in Bloomington IL.
Enjoy Rust Resistance with Aluminum Fencing
Nobody wants to invest in a product that does not maintain a great look over time. Thus, rust always serves as a consideration when you are picking fencing materials. Aluminum does not rust like iron and other metal fencing materials. In fact, it is estimated that aluminum may take over 10,000 years to disintegrate. Since it is not a ferric metal like iron, it offers you protection from oxidation and rust.
Aluminum Fencing Allows for Customization
Most good aluminum fence panels are rakable. Essentially, that means that aluminum fences can adjust to the rising and falling slopes of your land. If your fencing materials are not rakable, then they can and will leave unsightly gaps at the bottom of the fence when going up or down different land grades. Therefore, you can find a good solution if you have a property with differing slopes by choosing aluminum fencing in Bloomington IL.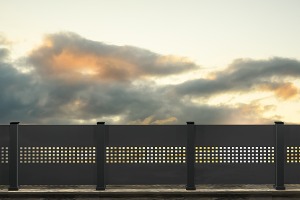 Contact Us
Hohulin Fence wants to provide you with all the information you need about aluminum fencing in Bloomington IL. Please give us a call now at 309-965-2241 or contact us online with your questions. In addition, we also carry wood fencing, vinyl fencing, and SimTek fencing options. Plus, we offer a full line of ornamental fencing in both aluminum and steel. Also, remember we do not just sell products. Do not forget to ask about our quick and easy installation process.