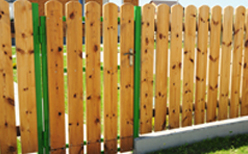 Find the Perfect Fence Company Close to Home
When looking for fence companies in Champaign IL that can provide quality products for reasonable prices, Hohulin Fence is the right choice.
For over 100 years, Hohulin Fence has been serving the Central Illinois area with quality fence repair and installation. With a wide variety of fences and trained experts to help install them, Hohulin Fence has made a name for itself as the lead fencing company in the area.
Why Should You Hire Hohulin Fence?
When wishing to install or repair fencing for your property, you should leave the hard work to the professionals. Hohulin Fence's team of service technicians can help you properly install fencing, and ensure it lasts for years to come.
Experience

Hohulin Fence employs the most experienced and dedicated individuals in the business. For this reason, it makes sense to hire a professional to handle your fence installation or repair. We've been helping clients for years and know how to get the job done right.

Quality

If finding and installing your own fence, you risk using lesser materials for your project. Hohulin Fence only supplies the most effective materials for any job. We know exactly what to look for, and how to resolve any fencing related issue.

Time

The professionals at Hohulin Fence install and repair fencing for a living. Because of this, we have come to master finishing our projects in a timely manner. What may be a whole season worth of work for you can take us a matter of a few days.
Fencing Is Our Passion
As one of the top fencing companies in Champaign IL, Hohulin Fence takes pride in our work. We are dedicated to giving you personalized assistance for any project, including:
Commercial
Rental panels
Kennels
Athletic fencing
Highway guard rails
Commercial gates and operators
Ornamental fencing
Commercial railings
Residential
Vinyl fencing
Chain link fencing
Ornamental fences
SimTek fencing
Hot-wired fencing
Residential kennels
Residential railings
Gates and operators
Wood fencing
Hohulin Fence is a proud LEED-certified business, meaning we use recyclable products whenever possible. All our steel fencing products are made with 100 percent recyclable material.
Find Out More
Of all the fencing companies in Champaign IL you can trust, Hohulin Fence is there for you every step of the way. Learn more about the fences and other products we sell by calling us. Hohulin Fence is located at 116 South Harrison Street, Goodfield, IL, 61742.