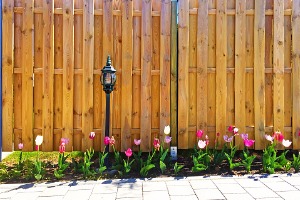 How Affordable Is Wood Fencing in Champaign IL?
Hohulin Fence understands that cost weighs heavily on you mind when you are considering wood fencing in Champaign IL. We have customized solutions to fit a wide range of budgets for many home builders, homeowners, and businesses since we were founded in 1897. Call us today at 309-965-2241 for a free estimate.
Wood fences can offer a substantial cost savings compared to other materials such as wrought iron, vinyl, or aluminum. Plus, wood fences offer you fencing that is cheap to maintain. In addition, the average treated wood fence can last for decades with nothing more than an occasional washing. So, if you are looking for a more budget-friendly option, we can offer you the following types of wood fencing:
Treated wood
Western Red Cedar
Copperwood
Usually, wood fencing costs around $10 to $30 per linear foot. Meanwhile, vinyl fencing will cost significantly more, depending on your needs. Contact us now to get a free estimate on wood fencing in Champaign IL. Whether you need residential or commercial fencing, we are the trusted local experts to call for quality products and superior craftsmanship.
Add Style with Wood Fencing in Champaign IL
No matter if you want the elegance of Gothic or French Gothic boards, or a rustic Dog Ear or Flat Top design, you can fit your style with wood fencing in Champaign IL. A rail fence offers a simple choice to surround a large area. Meanwhile, a picket fence gives you a classic and inviting look. Plus, wood fencing will provide you with more privacy. It is perfect for those who want to shield their yard from the neighbors. In addition, it adds the type of security that will deter burglars.
Go Green with Wood Fencing
When you want an environmentally friendly, all-natural solution, you get it with wood fencing in Champaign IL. Our products come treated with environmentally conscious stabilizers and preservatives. As a result, they are protected from swelling or termite damage without harming the soil or groundwater. Also, you can safely disassemble your wood fence and dispose of it when you need a replacement. The materials will not harm the environment as they degrade.
Wood Fencing Gives You Versatility
If you want to add curb appeal that fits perfectly with the existing look of your house, you can easily achieve that with wood fencing in Champaign IL. Since they are natural and customizable, wood fencing can blend in with your aesthetic. You can paint or stain fences with the color of your choice. Plus, you can install wood fencing with no gaps for optimal privacy, spacing between boards, or ornamental features on top.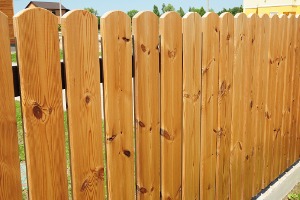 Request a Free Quote on Wood Fencing
Hohulin Fence can offer you some of the best products when it comes to wood fencing. Give our fencing experts a call now at 309-965-2241 for an estimate on your needs. For your convenience, you can also request a free quote online. Since 1897, our company has enhanced properties throughout Central Illinois with fences we've sold and installed. More homeowners and businesses trust us because of our quality products and superior craftsmanship. That's the Hohulin Way!