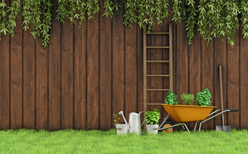 Fence Companies Decatur IL Trusts
From start to finish, Hohulin Fence stands alone among other fence companies Decatur IL can call on. Our team of experienced professionals has seen every kind of fence and yard.  Therefore, you have peace of mind that the job will be done right.
Our own beginnings over a century ago have given us the expertise and the know-how other fence companies in Decatur IL just don't have. We began with two brothers, sons of a German immigrant. Our founders used their fabric weaving experience and applied it to metal fencing, creating the chain link fence. Fast forward to now, and we've grown into one of the leading fence companies Decatur IL utilizes.
What does this mean for your own yard?
On one hand, it means that the process is quick, professional and efficient. Also, it means:
Safety — Your home is protected from intruders and children and pets are kept safely inside your property with our expertly installed fences.
Higher Quality of Living — Block out unwanted noise and add some privacy to your home with a wood or vinyl fence around the perimeter of your property.
Style —Choosing Hohulin means that your fence is as beautiful as it is sturdy. Because of this, you add curb appeal and statement to your investments.
Our residential products include:
Residential
Vinyl Fencing
Wood Fencing
Ornamental Fencing
Simtek Fencing
Hot-wired Fencing
Related Fencing
Residential Kennels
Gates & Operators
Residential Railings
What does this mean for your business?
Above all, it means our quality materials are installed by our experts. As a result, regular materials turn into a fence that will last for years. Additionally, our commercial fencing products include:
Commercial Fencing
Chain Link Fences & Athletic Fencing
Rental Panels
Privacy Fencing
Ornamental Fencing
Related Fencing
Commercial Kennels
Highway Guard Rails
Commercial Gates & Operators
Commercial Railings
In short, whether residential or commercial, choose Hohulin over other fence companies Decatur IL has to offer.
Lastly, be sure to contact us at 116 South Harrison St, Goodfield, IL 61742 or call us at 309-965-2241 today!