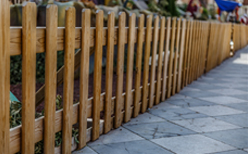 Feel Safe and Secure with Fence Installation in Peoria IL
Deciding on fence installation in Peoria IL doesn't have to be hard. At Hohulin Fence, we provide the best fencing products and installation Central Illinois has to offer.
After being in business for over 100 years, Hohulin Fence has brought its services to a number of commercial and residential clients. Our experience and our trained experts have cemented our name as the leading fence supplier in the area. We continue to reach for greatness by completing every project in a manner that is timely and cost-effective for you.
What Fencing is Right for You?
Hohulin Fence offers a wide variety of fencing to choose from, and each has unique benefits that appeal to clients' sense of privacy, safety and style.
Metal Fencing

Our options for metal fencing include chain link, metal hoarding, ornate metal and others. Each kind has added benefits, creating security and privacy for your property. Most metal fencing is strong and built to last.

Wooden Fencing

More middle of the road, wooden fencing is most often used for homes. From white picket fences to tall timber fencing, wooden fences look great while keeping neighbors from spying on you.

Stone Fencing

More akin to a wall, stone fencing is intended to last a long time. Stone fencing provides properties a regal look and is often coupled with fancy metal gates.

Vinyl and Composite Fencing

The most advanced fencing on the market today is either vinyl or composite fencing. Vinyl is made of PVC while composite consists of recycled plastics and woods. Both fences are durable, won't fade and can stand up to most any weather.
What Else Can We Provide?
Of the products Hohulin Fence has, we can provide fence installation services in Decatur IL for a variety of projects, such as:
Commercial
Rental panels
Kennels
Athletic fencing
Highway guard rails
Commercial gates and operators
Ornamental fencing
Commercial railings
Residential
Vinyl fencing
Chain link fencing
Ornamental fences
SimTek fencing
Hot-wired fencing
Residential kennels
Residential railings
Gates and operators
Wood fencing
Hohulin Fence is proud to be LEED-certified business. We use recyclable products whenever possible. All our steel fencing products are made with 100 percent recyclable material.
Get in Touch
For fencing installation services in Decatur IL you can rely on, Hohulin Fence is your best choice. Learn more about the fences and other products we sell by calling us at 309-965-2241. Hohulin Fence is located at 116 South Harrison Street, Goodfield, IL, 61742.