Contractors Near Me for Fencing in Bloomington IL
Hohulin Fence can help you add privacy and spruce up your outdoor living space with residential and commercial fencing in Bloomington IL. We specialize in sales and installation of wood, vinyl, and aluminum fences. Our company also can supply you with temporary fencing, gates, operators, highway guard rails, and other specialty items. No matter your fencing needs, we can customize superior products and services to fit your budget and taste.
Hohulin Fence has operated at the forefront of the fencing industry since our company opened in 1897. In fact, our pioneering spirit led us to develop the first commercially manufactured chain link fence fabric in the United States. Ever since, we have faithfully served customers seeking the best quality fence products throughout Central Illinois. If you need ideas for your property, consult with our fencing contractors who have helped engineer and manufacture the best fencing for more than 100 years.
Request a free quote now if you need fencing in Bloomington IL. Even if you are not quite sure what you need, our fencing experts can consult with you to suggest the perfect solution.
Wood Fencing
If you are seeking a traditional look, Hohulin Fence can sell you beautiful, aromatic, and durable wood fencing in Bloomington IL. We offer the following varieties of wood fencing:
Our wood fence products deliver the benefit of a long-lasting solution. Preservatives driven deep into wood fibers during the manufacturing process makes it extremely resistant to damage. In fact, our wood fences are resistant to fungi, termites, and weather damage. Therefore, you get a tremendous value for your investment with our wood fencing.
Vinyl Fencing
If you are looking for a certain aesthetic, you should consider our vinyl fencing in Bloomington IL. We provide vinyl fences that come in several different colors and styles. That way, you can match the already existing beauty of your property's exterior with your fencing solution. Furthermore, vinyl fencing provides a more economical option than some high-end metal fencing products. Plus, vinyl fencing delivers incredible durability and strength. Unlike wood, it is not susceptible to rot, termites, or damage from rust.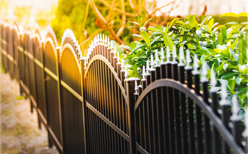 Aluminum Fencing
If you are on a tight budget, we can provide you with lower cost options with our aluminum fencing in Bloomington IL. Aluminum fences provide strong and durable solutions without some of the cost associated with higher-priced wood and vinyl fencing. Unlike other high-end metals, aluminum fencing is not ferric. So, you get the benefit of a sturdy fencing fabric that will not rust like iron. In addition, aluminum fence panels also are rackable. That means that our installation team can adjust panels to fit the unique contours of your property during installation. If you have rising or falling slopes on your property, aluminum fencing can provide a perfect fit to your landscape.
Contact Us for Fencing in Bloomington IL
Trust a company at the forefront of the industry for more than a century when you need fencing in Bloomington IL. Hohulin Fence provides only the finest quality fencing products and services. Contact us today to request a free quote. If you need recommendations, feel free to call our fencing experts now at 309-965-2241.