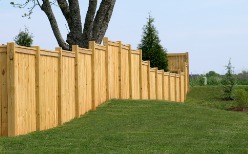 Get the Privacy Fence Bloomington IL Residents Desire
Need more privacy in your back yard? We get it. You need a privacy fence from Hohulin Fence, where we have a history of service going back 120 years. There are many reasons why you would need a privacy fence. Maybe you have a pool area and don't want people looking in. Perhaps you have nosy neighbors, or maybe you like to relax with a book without being startled by passing cars. Whatever the reason, we have the solutions. Our privacy fences are designed for commercial use and residential use by a company that is both local and dependable. With unparalleled service, attention to detail, friendly service and quality products, it's time to get the privacy fence Bloomington IL residents desire.
Ready for exceptional craftsmanship? What about dedicated service and easy scheduling? Come to your respected local manufacturers of privacy fences: Hohulin.
Here's Why You Need Us
Proven customer attention
Fast installation
Variety
Quality products
Free estimates
Dependable service
Eco-friendly approach
Family-owned mindset
Over a century in business
Exceptional products
Affordable pricing
Personalized service
We welcome you to learn more about us here. With headquarters in Goodfield, we offer services to all surrounding communities, including Peoria, East Peoria and Bloomington.
Reasons to Get a Privacy Fence
Considering a privacy fence? Good idea. Here are some of the main reasons why home and business owners choose to install such a product:
Value: Privacy fences add to the resale value of your home. They create an attractive border along with your property that reduces cross winds and also protects your landscaping.
Privacy: These fences will shield your curious neighbor's eyes from looking into your yard. Plus, it buffers noise between your yard and theirs.
Shelter: You can keep your pets and kids contained, plus you can protect your family from other animals or people that may invade your yard. Critters like deer, raccoons, rabbits and roaming neighborhood dogs can destroy your lawn, landscaping and property.
Safety: A privacy fence around a pool, for example, will discourage anyone from getting into the area and falling in.
Security: Theft and trespassing are usually random acts spurred by opportunity. Remember: out of sight, out of mind! When you secure your personal items behind a fence, it becomes less likely that a stranger will cross your property line.
Privacy Fences and More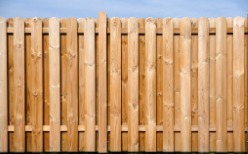 Residential products
Wood fencing
Residential kennels
Residential railings
Vinyl fencing
Chain link fencing
Ornamental fences
SimTek fencing
Hot-wired fencing
Gates and operators
Commercial products
Highway guard rails
Chain link fences
Rental panels
Commercial railings
Ornamental fencing
Kennels
Athletic fencing
Commercial gates and operators
If you need kennels, highway guard rails, and hot-wired fencing, we offer all those as part of our miscellaneous products as well.
Contact Hohulin Fence in Bloomington IL
Need a privacy fence in Bloomington IL? Just contact us at 309-965-2241, or email us at info@hohulinfence.com.