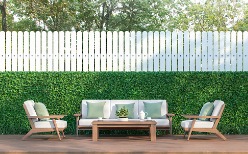 Homeowners: We Have the Residential Fencing in Peoria IL You will Love!
Your home is your sanctuary. It makes sense that you want to protect your yard and everything in it, including kids and pets. You also want privacy, especially if you have a pool. In that case, you need a fence designed specifically for residential use. For that, turn to the local and dependable team at Hohulin Fence – leaders in the local fence market. We were first established back in 1897 by three brothers: Sam, Tim and John Hohulin, sons of Gottlieb Hohulin. Our biggest claim to fame is that we were the first in the country to manufacture chain link fence fabric commercially. Who else can you trust for residential fencing in Peoria IL than an experienced family-owned business?
If you have a few minutes, learn more about us here.
7 Signs Your Home Could Benefit From a New Fence
From storm damage to tree growth, there is a multitude of reasons why you should invest in a new fence. Those signs include:
Holes: Insect damage tends to weaken your fencing, causing it to crumble and rot.
Tree Growth: The roots, trunks and branches of surrounding trees can damage fencing, particularly near the fence line. Maintain shrubbery by trimming your tree back and watching for falling limbs.
Significant Damage Due to Accident: If a tree fell on your fencing or a vehicle hit it, it becomes obvious you will need a new fence or at least a new portion.
Leaning Fencing: Does your fence lean outward or inward? Be aware that you could have an underlying structural issue.
Missing or Loose Fence Posts: If you can easily move your fence posts from side to side, you need a replacement.
Mismatched Fencing: Have you replaced so many sections and boards over the years that your fencing looks like a cobbled hodgepodge? You will need a new fence for a more cohesive look.
Insufficient Protection: If you have curious toddlers or dogs who have gotten big enough to jump over your existing four-foot fence, it's time for an upgrade.
What We Offer in Peoria
Hohulin Fence, a LEED-certified business, caters to both homes and businesses throughout Decatur. While our commercial products include chain link fences, rental panels, ornamental fencing, kennels, athletic fencing, commercial railings and more, our real bread and butter lie in our residential products. Those include: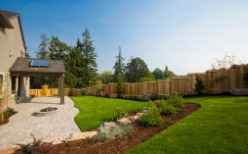 Wood fencing
Vinyl fencing
Chain link fencing
Ornamental fences
SimTek fencing
Hot-wired fencing
Gates and operators
Residential kennels
Residential railings
We serve customers in all surrounding areas beyond Peoria, such as Decatur, Pekin, Bloomington and Springfield. Trust our environmentally-conscious company that uses recyclable products whenever it can, with fences crafted with 100 percent recyclable materials.
Contact Us Today
To learn more about our residential fencing in Peoria IL, contact us at 309-965-2241. You can also email us at info@hohulinfence.com. Also, we are located at 116 S Harrison St, Goodfield, IL 61742.