Residential Chain Link Fencing
Residential Chain Link
Fencing
Find Affordable, Dependable Chain Link Fencing
Sometimes, finding the right fence for your property is more about practicality and versatility than aesthetics. If such is the case for your home, it's worth considering an investment in residential chain link fencing. As the first fencing company to commercially manufacture chain link fence fabric in the United States, chain link fences are one of our specialties. With different styles, colors and grades, our chain link fences can be customized and tailored to accommodate your property and personal preferences. Call Hohulin Fence today to get your new chain link fence installation started!
Why Choose Chain Link?
Although chain link fences aren't always the most aesthetically pleasing, what they lack in beauty is made up in versatility! Chain link fencing provides excellent security and safety for homeowners, their families and their pets. Not to mention, chain link fencing is surprisingly durable and long-lasting. When installing chain link fencing through Hohulin Fence, you can expect:
Affordability: Compared to other fencing types, chain link fences are far more cost-effective, which makes them an excellent option for enclosing large spaces.
Durability: Chain link fences are known for their resilience. They can withstand harsh weather conditions and require little to no maintenance.
Security: Chain link fences provide a clear view of both sides, making it harder for intruders to hide and providing an added level of security.
Easy Installation: Unlike many other types of fences, chain link fences are relatively easy to install, saving you time and labor costs.
Versatility: They are ideal for various applications, from creating a backyard boundary to securing an enclosure for pets or livestock.
Transparency: The mesh design allows for visibility, ensuring light passage and not obstructing views.
Customization: Chain link fences can be customized with different coatings, colors, and sizes to suit your specific needs and aesthetic preferences.
What Fence Type is Right for You?
With different styles and material options for chain link fences, homeowners can choose how they want to encompass their yard. Thankfully, Hohulin Fence can guarantee quick, expert installation no matter the residential chain link fencing you choose. For over 115 years, Hohulin has supplied the Midwest with exceptional fencing products and services. Our team can help you select the best type of chain link fencing for your unique property. Our chain link fence options include:
Galvanized Chain Link Fencing
Galvanized chain link fencing, sometimes called chain wire fencing, is coated in zinc to prevent rust. This provides homeowners a no-maintenance fencing solution and ensures the fence's integrity. Our galvanized chain link fencing options come in:
11 ½ gauge standard residential
9 gauge commercial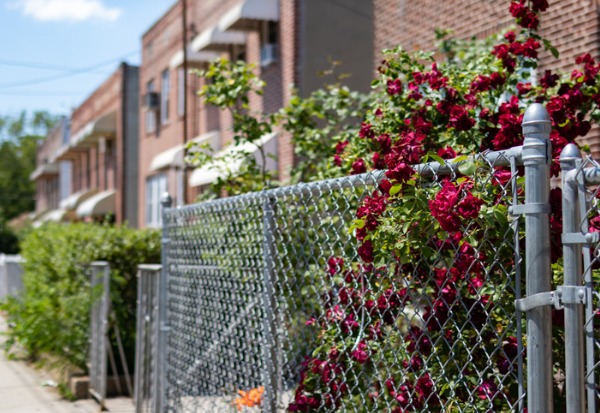 Aluminized Chain Link Fencing
Get the smooth finish of aluminum with the strength of steel with aluminized chain link fencing. This provides homeowners with a weather-resistant fence that requires no maintenance. Our aluminized fencing options come in:
9 gauge commercial
10 gauge commercial
Vinyl Coated
A chain link fence may be coated in vinyl for aesthetic value after being galvanized. Vinyl presents a cleaner appearance that can blend into the surroundings, depending on the color of choice. Because of the extra coating, the fence also tends to last longer than a galvanized fence. Our vinyl-coated fencing includes:
8 gauge finish
Available in black, brown, green, and white
12-year limited warranty
Talk with Our Team
When your residential fencing needs are urgent, choose Hohulin Fence for our exceptional chain link fencing products and installation! If you are interested in residential or commercial fencing or wish to request a quote, contact Hohulin at 309-965-2241. We are located at 116 S Harrison St, Goodfield, IL 61742.