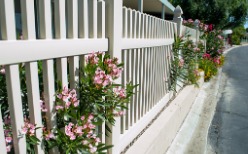 Long-Lasting, Gorgeous Vinyl Fencing in Champaign IL
Vinyl fencing is the perfect choice when thinking about a fence for your Champaign yard. After all, it comes in many colors and styles, it's gorgeous and it lasts the test of time. Why wouldn't you choose vinyl fencing in Champaign IL? We can tell you why you should. Vinyl:
Is easy to clean and maintain
Does not rot, fade or peel
Comes in a variety of styles and colors
Is long-lasting and durable
Is attractive
Works with all landscapes
Boosts curb appeal
Increases property value
Keeps kids and pets contained
Complements your home
Stands up to the demands of the weather and time.
Doesn't require painting as wood does
Did you know all our vinyl fences are manufactured right here in the United States? When you want durable, high-quality vinyl, whether for your small business or home, we are the ones to call. Did you know we have been serving all of Illinois for more than 120 years?
Vinyl Fencing is the Right Choice
Here at Hohulin Fence, we install anything from picket and semi-privacy to privacy and horse rail vinyl fencing, all in a wide variety of styles and colors. There are several reasons why incorporating vinyl fencing in your yard is a good idea. One of the biggest bonuses is that it doesn't require painting as wood does. Plus, it's not susceptible to termites or rust like wood or metal fencing is.
In the end, vinyl won't warp over the years because it's five times as strong as wood. It's time to invest in vinyl fencing in Champaign IL.
Contact Hohulin Fence in Champaign
For more information on our vinyl fencing in Champaign IL, call us at 309-965-2241 or email us at info@hohulinfence.com. We are based at 116 S. Harrison Street in Goodfield, IL, serving all of Champaign and the surrounding areas.