The Best Reasons to Buy Aluminum Fencing in Decatur IL
Hohulin Fence provides you with many great benefits and services when you want aluminum fencing in Decatur IL. Call now at 309-965-2241 to reach trusted local fencing experts who have served Macon County residents and businesses since 1897.
Our company knows that you want to shop around and research before you invest money in the installation of a fence. Thus, Hohulin Fence can provide you with all the information you need to make the best choice. After all, we understand our customers receive more satisfaction when they know they have made an informed decision. As a result, more homeowners, construction contractors, and business property owners choose us over competitors for fencing. We help you every step of the way to make sure all the fine details perfectly fit the style you want. Consequently, our local, family-owned business has established an unparalleled tradition of customer service excellence for over 120 years.
So, please review our website for the information you need about us, our products, and our services. Contact us now to get answers to any questions you may have.
Aluminum Fencing Saves You Big Money
Since it comes with a lower price tag, aluminum fencing appeals to many customers. In fact, aluminum fencing will allow you to stay within a budget easier than other materials. For example, wrought iron products get quite costly when compared to aluminum because the iron must undergo a fabrication process in a shop with more expensive metal. On the other hand, aluminum fences remain cheaper because they are made with lower-cost manufacturing of products. Thus, you can save a lot of money and still get great aluminum fencing in Decatur IL.
Get More Options with Aluminum Fencing in Decatur IL
You get more versatility and freedom of choice when you buy and install aluminum fencing in Decatur IL. If you choose, we can install an aluminum fence with spear pickets on top for security. Plus, you can choose from several different colors to fit your style. Also, you can contour aluminum fencing to fit around oddly-shaped yards. In addition, aluminum fences can get adjusted to match the rising and falling of the slope in your yard. If you have a specific design or layout in mind for your front yard, Hohulin Fence can give you a free quote.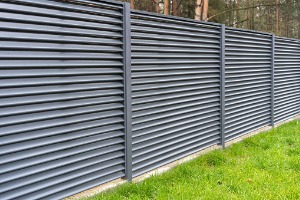 Aluminum Fencing Offers a Sturdy Solution
The changing seasons in Macon County bring challenging outdoor weather that you can protect yourself from with aluminum fencing in Decatur IL. Plus, you can protect children and pets from being disturbed by strangers or wandering into traffic. Also, aluminum fencing can withstand a lot of abuse. So, it will not fall over if your children kick a ball into it or the family pet runs into it. You receive more structural strength with aluminum fences than wooden or other types of fencing. For that reason, many of our customers select aluminum to surround swimming pools to keep children, family, and friends from drowning.
Do You Have Questions About Aluminum Fencing?
Hohulin Fence can answer all your questions about aluminum fencing in Decatur IL. After all, we have installed quite a few throughout Central Illinois since our company was founded in 1897. Therefore, rely on your trusted local fencing experts for all the help you need to make a perfect choice. Contact us now to request a free quote. On the other hand, you can also call 309-965-2241 if you prefer to speak with our courteous customer service professionals.