Enhance Your Home with Vinyl Fencing Decatur IL
What secures your home's landscape, increases property value and is aesthetically pleasing? A vinyl fence from Hohulin Fence! That's right, our vinyl fencing in Decatur IL is loved by many for its function and form. This product is manufactured in the United States and specifically designed to withstand the wear and tear of standard solutions. And since it is made out of a special resin, it is also a lot easier to clean than wood and iron options. Are you interested in giving your yard a facelift? Our contractors will gladly install a solution at a rate you can afford. Better yet, we'll allow you to choose from a variety of styles and colors perfectly suited to your taste!
Benefits of Vinyl Fencing
As previously indicated, there are many benefits to investing in a vinyl fence. Beyond the obvious advantages of synthetic solutions, our vinyl fencing in Decatur IL boasts the following features:
Effortless Upkeep – It doesn't take a lot to maintain a vinyl fence. Unlike wooden options, which require frequent repairs and paint jobs, vinyl fences will need an occasional light wash and usually nothing more. Our experts recommend doing this at least once a season to keep your property in top shape!
High Security – Synthetic fencing is strong. To put in perspective just how strong it is, consider the strength of a standard wooden fence and multiply it by five. That's how strong our vinyl fences are! So you can have full faith in them to keep your children and your pets in while deterring any unwelcome visitors. And, since vinyl doesn't splinter when damaged like wood, it proves a lot safer for everyone involved.
Rot & Rust Free – Vinyl is incapable of developing rot and rust, meaning that it will last a long time. Without constantly costing you hundreds in repairs, this solution gives greater freedom to invest in other landscaping endeavors, both big and small.
Weather Resistant – Besides its immunity against rot and rust, vinyl fencing is also very weather resistant. Rain, sleet, and snow may wreak havoc on a roof or house, but our manufacturers have designed our fences to stand strong. Even after years of exposure to the elements, they still won't warp, promising protection, now and always.
Other Options:
If vinyl isn't your style, don't fret! We have plenty of alternatives that are guaranteed to enhance the aesthetic of your home. These are as follows: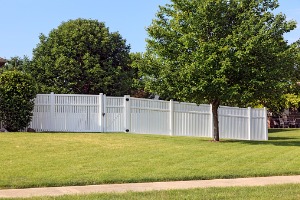 Wood Fencing
Ornamental Fencing
SimTek Fencing
Hot Wired Fencing
Athletic Fencing
To learn more about each of these solutions, contact our team today!
Make the Smart Choice
Our vinyl fencing in Decatur IL is guaranteed to provide you the protection and curb appeal you require. For more information on our installation services, call 309-965-2241 or email us at info@hohulinfence.com. We are based at 116 S. Harrison Street in Goodfield, IL, serving all of Champaign and the surrounding areas.