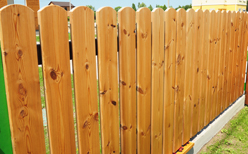 Hunting for the Best Fence Installation Companies in Decatur IL?
Do you find yourself needing new fencing for your home or business? Thankfully, it's not a problem to find the right company to handle the job. When searching for the "best fence installation companies," Decatur IL residents will consistently find Hohulin Fence at the top.
Hohulin Fence has been serving Central Illinois for over 120 years. Founded by the Hohulin brothers in 1897, our company has been installing chain link, picket, metal fencing and more ever since. We build our fences with the highest quality materials that last for years after installation.
Why Are Fences So Great?
You may wonder what the big deal is with fencing, anyways? We have the answer to such a question. Hohulin Fence believes in the product we provide and know you'll have many reasons to love your new fence.
Privacy – No more peeping eyes into your backyard. A tall, sturdy fence ensures your privacy is your own.
Security from Outside – If your yard is closed off, it's difficult for unwelcome guests to get to your door. The same can be said for fencing around a business.
Security from Inside – If you have animals or children playing in your backyard, a fence can ensure they won't wander off.
Looks – Large ornate fences or a beautiful picket fence might be just the addition your property needs.
Value – Houses with fencing increase the value of your property by a decent amount. If you ever wish to sell, a fence will help.
Property Markers – There's no better way to mark your property than with a fence. No more debating on who's side of the yard you're trimming.
Sound – A fence can help reduce noise pollution in your yard. Especially on busy streets or near railroads, a fence will knock a few decibels off ambient sounds.
What Kind of Fences Can You Get?
Ready to get a new fence? Why not have Hohulin Fence, one of the best fence installation companies Decatur IL has, help get you started? We offer a variety of quality fences to choose from. Each one is sure to satisfy whatever your needs may be. Our selection includes:
Commercial
Rental panels
Kennels
Athletic fencing
Highway guard rails
Commercial gates and operators
Ornamental fencing
Commercial railings
Residential
Vinyl fencing
Ornamental fences
SimTek fencing
Hot-wired fencing
Residential kennels
Residential railings
Gates and operators
Wood fencing
Hohulin Fence is a proud LEED-certified business, meaning we use recyclable products whenever possible. We make our steel fencing products with 100% recyclable materials.
Looking for More?
If you're interested in how Hohulin Fence became one of the best fence installation companies for Decatur IL, call us today! Contact us at 309-965-2241. Also, we are located at 116 South Harrison Street, Goodfield, IL 61742.