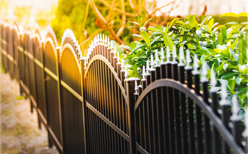 Company Near Me for Fence Installation in Decatur IL
Macon County customers prefer Hohulin Fence contractors when it comes to commercial and residential fence installation in Decatur IL. Since 1897, our company has developed innovative fencing products and delivered top-rated installation services. Whether you need fencing for athletic fields, your home, business, or even highway guard rails, Hohulin Fence offers the best solutions. Our wide selection of products includes the following:
There is a reason our company has served as one of the most trusted in the fencing industry for over a century. For starters, Hohulin Fence was the first company credited with developing commercially manufactured chain link fence fabric. In addition, we worked on some of the first overhead slide gates in history and patented chain link fencing steel posts. That tradition of excellence continues today, making us one of the top fence companies in Central Illinois.
If you have any questions about us or our products, we invite you to contact us. Upon request, we also provide free estimates.
An Easy Process for Fence Installation in Decatur IL
Hohulin Fence exceeds customer expectations by providing a no muss, no fuss process for fence installation in Decatur IL. We take care of your needs with a quick and hassle-free installation in a matter of hours. We provide honest, upfront pricing and installation methods. For every project, we follow the stops outlined below.
We Identify the Perfect Fence for You
Each property comes with its own unique dimensions, slopes, and demands when it comes to fencing. So, we do not offer cookie cutter solutions. Instead, we consult with you to understand your objectives and desires for fencing. Then, we make recommendations based on our years of experience and product knowledge. That way, you get the assistance you need to pick out the perfect solution before we being the process of fence installation in Decatur IL.
Stress Free Project Scheduling
Hohulin Fence provides honest and upfront pricing terms when you do find the best fence for you. Consequently, you can get the products you want at the right price. Then, you can simply fax, mail, email, or hand deliver a contract to being scheduling the project. Keep in mind, we do require a 50% down payment payable by check, cash, or any major credit card. Then, we will find a time that works for you to complete your fence installation in Decatur IL.
Permit Process
All projects will require a permit application from your local municipality before we can begin fence installation in Decatur IL. Most local government agencies will require a copy of your contract before issuing a permit. If you live in an unincorporated area, your county zoning department will handle the permit application. If it is applicable to your property, you will also need to get permission from the homeowner's association or your neighbors.
Preparing Your Property for Fence Installation
Hohulin Fence contractors will call JULIE to mark all public utilities lines on your property before we being fence installation in Decatur IL. That way, we can ensure a safe process. On the other hand, you will need to have utilities marked on your own if you own private utilities. For instance, you should mark the location of your sump pump, some outdoor lighting, and sprinkler systems. If you have any questions, do not hesitate to contact Hohulin Fence for more information.
Project Completion
We recommend that you identify your preferred fence layout and show it to installers. Plus, it is usually a good idea, if possible, to remain at your property during the early stages of the fence installation in Decatur IL. You will need to discuss the layout in depth with the installation team beforehand if you will not be able to remain on site. We make every attempt to install the project on the scheduled date. However, there are times when bad weather requires a delay. If a weather cancelation occurs, we will schedule your installation as quickly as possible for the next convenient date and time.
Contact Us
Let Hohulin Fence consult with you when you are looking for fence installation in Decatur IL. Contact us online or give us a call at 309-965-2241 for a free estimate. Trust the experts with over 100 years of experience to receive the best fence installation services at your property.