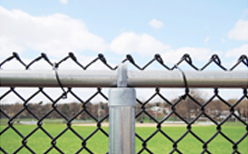 Providing Chain Link Fence Installation Champaign IL Wants
When you require a durable chain link fence for your property, come to Hohulin Fence. Because we have served Illinois for more than 120 years, the result you are left with is quality fencing marked by superior craftsmanship. We only use top-quality products that last the test of time. And all our fences are made right here in the USA. So, if you need chain link fencing for your home or business, we should be your first phone call. Additionally, we're a family owned business, immersed in the fencing industry for well over a century. We provide chain link fence installation Champaign IL wants.
Founded in 1897 by Sam, Tim and John Hohulin, sons of Gottlieb Hohulin, we were the first to commercially manufacture chain link fence fabric in this country. Choose from chain link fences designed for commercial use and residential use.
Choices in Champaign
Hohulin Fence, offering a wide selection of options, gives you choices ranging from residential to commercial chain link fencing systems.
Commercial Chain Link Fences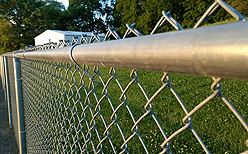 Our commercial chain link fences, made in the USA, bring a practical, economical solution to any business. Not only are they best for installation in parks, prisons, batting cages and industrial plants, it's possible to add customizations to complement your fencing system. Take our athletic fencing, for example, which protects players and onlookers while a game is going on. Here are the related products we sell with our athletic fencing:
Back stops
Foul poles
Discus cages
Batting cages
Tennis courts
Residential Chain Link Fences
As the most popular and economical solution for property delineation among our Central Illinois clients, our chain link fences come in a variety of colors, styles and grades. Select from:
Vinyl coated
Galvanized
Aluminized
Contact Hohulin Fence in Champaign IL
To inquire further about our chain link fence installation in Champaign IL, contact us at 309-965-2241. Alternatively, you can email us at info@hohulinfence.com. We are based at 116 South Harrison Street in Goodfield, IL.