Discover Commercial Fences Decatur IL Depends On
For your new or ongoing business, it may be time to make some changes. If you haven't thought about it before, installing a fence around your property might be a worthwhile investment. And if looking for the right commercial fences Decatur IL businesses use, call on the services of Hohulin Fence.
At Hohulin Fence, we've been installing fencing for residential and commercial properties for the past 120 years. Moreover, we're dedicated to our clients and providing the highest quality fencing products for businesses around Central Illinois. Hohulin Fence has the skill and experience necessary to install your fencing accurately and affordable.
Why Do Businesses Need Fencing?
You'll find that many of the same reasons you'd get fencing for your home, you'd get fencing for your business too. Fence installation is important for your property and will benefit your business in numerous ways.
Security

If you need to protect equipment, products or sensitive information, a fence becomes necessary. In fact, fencing can even help ensure the safety of your employees or customers if that's something you should be concerned about.

Aesthetics

Depending on the kind you get, a fence can add a lot to the aesthetic appeal of your property. For example, fancy ornate metal or tall stone fencing can help represent and attract the sort of business you wish to obtain.

Control

Fenced in property with a gate will ensure only those you allow to come in can come in. From automatic gates with electric controls to a man operating a gatehouse, you can especially control the flow of traffic for your business.

Privacy

If much of your business operations take place outside, you'll want a fence for privacy. Your employees will be particularly thankful for your concealed property, and local passers-by won't stop to gawk at the work you're doing.
What Fencing Can We Do?
For the commercial fences Decatur IL needs, Hohulin Fence can provide. We supply a variety of fencing options from reputable brands. Everything is made from the best materials, ensuring your fencing lasts for many years after installation. We do commercial fencing such as:
Rental panels
Kennels
Athletic fencing
Highway guard rails
Commercial gates and operators
Ornamental fencing
Commercial railings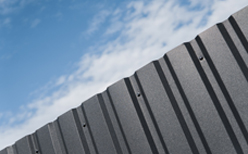 Hohulin Fence is a proud LEED-certified business, meaning we use recyclable products whenever possible. All our steel fencing products are made with 100 percent recyclable material.
Give Us a Call
It's time to get excited about the commercial fences Decatur IL businesses can receive with Hohulin Fence! Call us today at 309-965-2241. Also, we are located at 116 South Harrison Street, Goodfield, IL 61742.