Your Most Reliable Fence Company in Decatur IL
Hohulin Fence is a leading manufacturer of top-notch chain link fences for commercial use and residential use. Learn more about us here. You'll soon see we are based in Goodfield, offering services to all surrounding communities. As the most reliable fence company in Decatur IL, we have a history of giving you more than 120 years of quality fencing. Searching for a fence company you can trust? Look to the company that is known for superior craftsmanship and products, as well as attention to detail within a family owned business. Hohulin Fence has been around since 1897, established by brothers Sam, Tim and John Hohulin. They were the sons of Gottlieb Hohulin. We are proud of this fact: our company was the first in the country to commercially manufacture chain link fence fabric.
Our Offerings in Decatur
Hohulin Fence, a LEED-certified business, always uses recyclable products whenever possible. Did you know all our steel fencing products are made with 100 percent recyclable materials? We make it a habit to support home and business owners throughout Central Illinois by crafting high-quality fencing, gate and railing products.
Our commercial products include: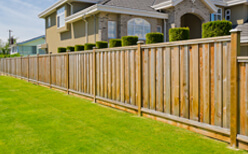 Chain link fences
Rental panels
Ornamental fencing
Kennels
Athletic fencing
Highway guard rails
Commercial gates and operators
Commercial railings
Our residential products include:
Vinyl fencing
Chain link fencing
Ornamental fences
SimTek fencing
Wood fencing
Hot-wired fencing
Residential kennels
Residential railings
Gates and operators
We eagerly serve customers in all surrounding areas beyond Decatur, such as Peoria, East Peoria, Pekin and Springfield.
Contact Hohulin Fence in Decatur IL
To learn more about the fences and other products we sell and install in Decatur IL, contact us at 309-965-2241. You can also email us at info@hohulinfence.com. We are located at 116 South Harrison Street in Goodfield, IL, so come down and visit us.