We Have the Fence Contractors Champaign IL Depends On
Hohulin Fence hires only the best installers to install your residential and commercial fences. Adhering to best practices, we stay on top of the latest trends in installation and product quality. A forward-thinking company, we are also a LEED-certified business, always using recyclable products when possible. Our dependability and long-lasting success both make us a leader in the fencing industry throughout Champaign and beyond. Our fence contractors specialize in both commercial use and residential use fences that range from chain link to ornamental fencing. Rely on Hohulin Fence to provide the top levels of satisfaction and service around, something we've been doing well since 1897. Because we have the fence contractors Champaign IL depends on, our customers get peace of mind.
Contractor Services in Champaign
Hohulin Fence, operating throughout Central Illinois, crafts high-quality fencing, gate and railing products. That's because we have the strength and skill of our trained contractors behind us. Rest assured, Hohulin Fence has been around a long time — since 1897 in fact. Established by brothers Sam, Tim and John Hohulin, sons of Gottlieb Hohulin, we were the first in the country to commercially manufacture chain link fence fabric.
Our contractors are skilled at installing these commercial products:
Chain link fences
Rental panels
Ornamental fencing
Kennels
Athletic fencing
Highway guard rails
Commercial gates and operators
Commercial railings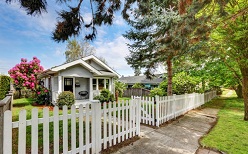 Our contractors also install these residential products:
Vinyl fencing
Chain link fencing
Ornamental fences
SimTek fencing
Wood fencing
Hot-wired fencing
Residential kennels
Residential railings
Gates and operators
If you need help deciding which product you need in which material, we can help. We serve customers in all surrounding areas beyond Champaign, such as Peoria, East Peoria, Pekin and Springfield.
Contact Hohulin Fence in Champaign IL
To inquire about the fences and other products our contractors install in Champaign IL, contact us at 309-965-2241. You can also email us at info@hohulinfence.com. We are located at 116 South Harrison Street in Goodfield, IL, so why not come down and visit us?