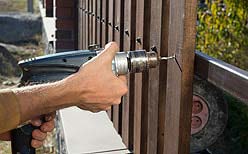 We Have the Exceptional Fences Champaign IL Needs
Here at Hohulin Fence, our proven process is seamless and stress-free, which is why you can depend on us to provide the highest level of satisfaction and service. In fact, we've been local leaders in fencing since 1897. Whether you need fences for commercial use or residential use, Hohulin Fence should be your first choice. We always adhere to best practices and hire only the most skilled contractors around. This is what makes us a leader in the fencing industry throughout Champaign and beyond. Thus, we offer the exceptional fences Champaign IL needs.
The Installation Process in Champaign
We keep you in the loop from that first phone call to the end of the project. Here's a look at our process:
Schedule on-site fence estimate: We will come to your home or business to speak about your needs and give you a free quote. We are happy to meet when it is convenient to you, whether after hours or on the weekends.
Sign and return contract with deposit: After reviewing the terms, sign the contract and send it back with a deposit of 50 percent down. We take cash, check or credit cards.
Get permits: When applying for a fence permit from Champaign, you'll need to provide a copy of the contract in order to process the permit. You should also gain permission from a neighbor or homeowner association if required.
Schedule installation: After confirming the deposit and ordering the materials, we will add you to the schedule. We'll give you a rough idea of when we will arrive; however, this will depend on the time of year and material availability.
Prepare jobsite: We will make sure your property is marked for public utilities. However, as far as private utilities located on your property go, you will have to advise us on the location of sprinkler systems, sump pumps and lighting.
Installation: If you can, you should be there at least during the first couple of hours so you can walk through the layout with our installers. All installations are subject to weather conditions.
Contact Hohulin Fence in Champaign IL
To learn more about our fences Champaign IL, contact us at 309-965-2241. Additionally, you can email us at info@hohulinfence.com. We are located at 116 South Harrison Street in Goodfield, IL for your convenience.