Top Company for Residential Fencing in East Peoria IL
Hohulin Fence professionals are the most reliable local professionals when it comes to installation of residential fencing in East Peoria IL. After all, we have had a lot of practice. Since 1897, we have served as an industry leader for fencing sales and installation in Tazewell County. Our groundbreaking company became the first one in the United States to manufacture chain link fabric for fencing. Plus, we are one of the first fencing companies in the county to develop and build sliding overhead gate systems.
Our company can customize colors and styles to suit your needs for residential fencing in East Peoria IL. We offer vinyl, wood, iron, and chain link fencing to give you plenty of options. Do not worry if you are not quite sure what you want. Let one of our helpful fencing experts consult with you to give you ideas and tips. Call our team today at 309-965-2241 for a free consultation to discuss your needs. If you need just a quick quote, use our fast and easy online contact form to request one. Tell us how we can help!
Choose from Plenty of Options
We understand that you want your home to feel comfortable and inviting to visitors. Therefore, we work hard to provide you with many choices when it comes to residential fencing in East Peoria IL. We know you will find exactly what you are looking for at Hohulin Fence. Our fencing company offers the following residential products:
Vinyl Residential Fencing – Match the color or style to hit the right aesthetic with this customizable type of fencing. It requires little to no maintenance. Plus, it will not rot, warp, or rust over time.
Chain Link Fencing – It offers you a great value for your money. Though inexpensive compared to other materials, chain link fencing offers the durability to hold up against severe weather.
Ornamental Fencing – Make your neighbors jealous with fencing that comes with a durable metal frame and beautiful design. It can make your home the envy of the neighborhood.
SimTek Fencing – This molded fencing mimics the look of expensive stone fencing. It is a solution that requires little maintenance while adding style to your yard.
Wood Fencing – If you want a classic look, our cedar fencing will deliver it. We allow you to choose whether you want a shorter picket fence for a nice aesthetic or something taller for more privacy.
Hot-Wired Fencing – This fence will help you keep pets from wandering in dangerous areas or from tearing up your garden. From pets to livestock, it works well to prevent animals from getting into certain areas.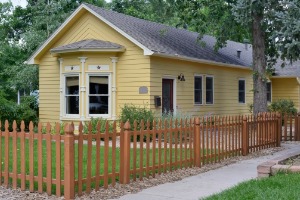 Free Estimates for Residential Fencing in East Peoria IL
For the best residential fencing, trust the company that has served Central Illinois since 1897. Request a free quote from Hohulin Fence on residential fencing in East Peoria IL. Call 309-965-2241 or simply fill out our online contact form right now. Let our family-owned business keep your family safe and secure with a great looking new fence!