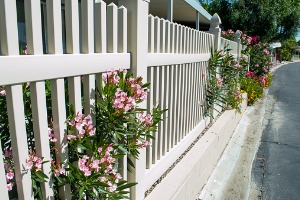 Select from the Best Residential Vinyl Fencing for Bloomington IL
While wood fencing is traditional and metal fencing can be ornate, it's hard to beat residential vinyl fencing for Bloomington IL. This unique fence material offers incredible benefits, ease of care and affordability to those looking to add something more to their yard. And with help from Hohulin Fence, you can select the best vinyl fencing products available on the market! Call today to get a free estimate for your home.
What's Special About Vinyl?
Many residents throughout the Midwest have come to love the simplicity and beauty of a vinyl fence. But what makes vinyl fencing so great? Allow Hohulin Fence to explain some of vinyl's best benefits:
Greater Strength and Resistance – Between wood, metal and vinyl fencing, vinyl's strength is second to metal. However, vinyl's durability is still incredible when compared to wood. Moreover, as vinyl is a unique plastic material, it's resistant to most factors that affect wood and metal. For example, vinyl fencing doesn't suffer from rot or termites, like wood, and won't rust over time, like metal.
Easier to Purchase and Install – Compared to other fencing products, residential vinyl fencing in Bloomington IL can be the most affordable option. The material to make vinyl doesn't cost as much as metal or more expensive wood types. Additionally, vinyl fences are easy to install, allowing technicians to quickly set up your fence, thus reducing your cost for labor.
Beautiful and Maintenance-Free – If there's a sure-fire way to add to your home's value, it's through vinyl fencing. There are dozens of styles, sizes and colors of fencing to choose from, matching the beauty of your home. Moreover, once your fence is installed, you can enjoy its aesthetics with little to no work! Vinyl fencing is mostly maintenance-free, with exceptions for the occasional cleaning.
Our Incredible Fencing Products
While vinyl fencing is an incredibly popular option for most households, it's not for everybody. And for those who want more options than vinyl, Hohulin Fence is happy to oblige! We provide sale, installation and repair for a large variety of fencing products, both residential and commercial. Some examples include:
Residential :
Commercial :
Call Today
Improve the function, beauty and safety of your property in the best way possible: get residential vinyl fencing in Bloomington IL, today! To learn more about a product or schedule a free estimate, you can call Hohulin Fence at 309-965-2241. Also, we are located at 116 Harrison St, Goodfield, IL 61742.