A Dog Fence in Decatur IL for Your Furry Friends
There's no better friend you can have than a dog. Your dog thinks the absolute world of you, and you would do good by your pet by giving them the space and exercise they need. Thus, you ought to consider a dog fence in Decatur IL. By providing a safe and spacious area where you and your pets can interact and play, you'll continue building the bond between you and your dogs. And who else better to install a new dog fence than the fence professionals at Hohulin Fence?
For over a century, Hohulin Fence has offered the best fencing products to homes and businesses throughout Central Illinois. Our skill and experience providing incredible fencing products and installation to our customers have led us to try our hand at related fencing services. For example, we now offer kennels and dog fences for your furry friends. Rest assured, you're only getting the best when you hire Hohulin Fence.
Reasons You (And Your Pup) Will Love a Dog Fence
Nowadays, many pet owners opt for the convenience of invisible fencing to keep their pets from wandering off. And while invisible fencing does have its advantages, you and your dog will get so much more from traditional fencing.
Physical Presence

Invisible fences are designed to ingrain a behavior in your dog to not go beyond a certain point. This behavior is enforced by applying a light shock to your dog if they go past the boundaries of your invisible fence. However, this tactic isn't always sufficient for dogs with high energy or aggression issues. In such cases, a physical barrier works best to keep your pets safe.

Space for Exercise

As your dogs grow, it's important to keep them fit and healthy. On average, dogs require between thirty minutes to two hours of exercise per day (depending on their size and breed). However, you don't always have the time to be taking them on walks or trips to a dog park. Conversely, with a dog fence, your pets can get all the exercise they need from the comfort of your home.

Comfortable Environment

Some dogs can become anxious and territorial when placed in situations they are not comfortable in. However, by having a safe space for your pup to play and interact with other dogs and humans, you can help them overcome their fears and anxieties. Having fencing for your backyard creates an area where you can comfortably train and play with your dog, helping them adjust into a calm and obedient friend.
Top-Tier Fencing Products and Services
Besides setting you up with a dog fence in Decatur IL, Hohulin Fence provides various other fencing products and services. From commercial to residential, we can find exactly what you're looking for. For example, what we offer includes: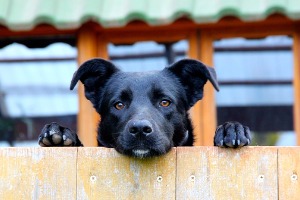 Commercial
Residential
Call Our Office
Let your pets be as happy and safe as they can be with the addition of a dog fence in Decatur IL! To request a free estimate, call Hohulin Fence today at 309-965-2241. Also, we are located at 116 S Harrison St, Goodfield, IL 61742.