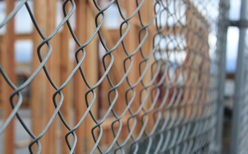 We Have the Chain Link Fence Bloomington IL Wants
Serving Illinois for more than 120 years with quality fencing, Hohulin Fence boasts superior craftsmanship and superior products. If you need chain link fencing for your home or business, we are your source. As a family-owned business, Hohulin has worked in the fencing industry for well over a century. Founded in 1897 by Sam, Tim and John Hohulin, sons of Gottlieb Hohulin, we were the first to commercially manufacture chain link fence fabric in the United States. Today, we still manufacture top-notch chain link fences for commercial use and residential use. Based in Goodfield, we offer services to all surrounding communities. We have the chain link fence Bloomington IL wants.
We Give You Choices
Here at Hohulin Fence, we are proud to give our clients options. Offering both residential and commercial chain link fencing systems, we stand behind the durable, beautiful products we sell.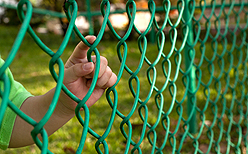 Residential Chain Link Fences
The most popular and economical solution for our Central Illinois customers, a residential chain link fence is a durable, traditional option available in a variety of colors, styles and grades. We offer these types, all made in the USA:
Galvanized
Aluminized
Vinyl coated
Commercial Chain Link Fences
A practical, economical solution for any business, a chain link fence provides property delineation and security. These fence types are used in a variety of applications, from prisons and parks to batting cages and industrial plants. All of our commercial chain link fence materials are made in the USA, featuring different colors, styles and grades that can be custom-tailored to your needs. They are available in galvanized, aluminized and vinyl coated.
For example, our athletic fencing is designed to enhance the safety of players and onlookers during games or practice. Thus, we also offer the following related products:
Back stops
Discus cages
Batting cages
Tennis courts
Finally, foul poles
Contact Hohulin Fence
To learn more about our chain link fences in Bloomington IL, contact us at 309-965-2241. You can also email us at info@hohulinfence.com. In conclusion, we are located at 116 South Harrison Street in Goodfield, IL.