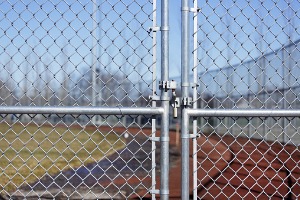 The Best Benefits of Commercial Chain Link Fencing in Peoria IL
Hohulin Fence can provide fast, durable, and affordable solutions when it comes to commercial chain link fencing in Peoria IL. Give your trusted local source for fencing since 1897 a call now at 309-965-2241 for a free quote.
Whether you are a building a baseball diamond, a school, a park, or any business location, Hohulin Fence offers high quality commercial chain link fencing products. Plus, you can take pride in supporting American workers because all our products are made in the USA. In addition, you can customize your fencing by picking from many available colors, styles, and grades available. So, please consider one of the following products if you want commercial chain link fencing in Peoria IL:
Contact us today for a free estimate on your fencing needs. If you are unsure about purchasing commercial chain link fencing, please read on to discover the many benefits you gain from installing our products.
Make Your Property More Secure
Keep your property secure from thieves, wildlife, and trespassers with our commercial chain link fencing in Peoria IL. In fact, businesses in remote areas rely on chain link fencing to keep problem pests from destroying valuable property. For extra protection, install fences with smaller mesh sizes to decrease penetration and increase security. Galvanized chain link fences are also corrosion resistant to rain, snow, or frost.
Improve Your Aesthetics
We offer many different colors and styles if you want to get just the right look for your commercial chain link fencing in Peoria IL. For a more appealing colored option, along with corrosion resistance and durability, a vinyl coated fence on galvanized frame will be the best option.
Gate Options
Hohulin Fence offers swinging and sliding options for commercial gates along with commercial chain link fencing in Peoria IL. With the material options of wood, vinyl, iron and chain-link, our commercial gates can match any type of fencing structure. Our craftsmen install gates of any size and specifications to fit your unique fencing needs.
A Great Return on Your Investment
Hohulin Fence offers many great options that will not bust your budget when it comes to commercial chain link fencing. In fact, commercial chain link fencing represents your most economical choice of fencing for your business.
Other Commercial Products We Offer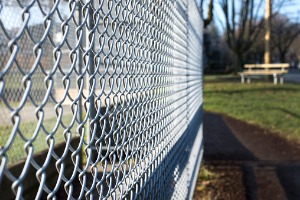 Hohulin Fence has proudly provided companies across the Midwest with premium products in fencing, gating, and railing. Our family-owned fence company has provided the highest level of satisfaction and service to our Central Illinois customers since 1897. In addition to chain link fencing, we provide the following:
Contact Us for Commercial Chain Link Fencing
Give Hohulin Fence a call today at 309-965-2241 for a free quote on commercial chain link fencing. Our products come in a variety of materials, colors, sizes, and configurations to meet your needs. Plus, you receive all the benefits of working from the top local fencing provider since 1897. In addition, we can also handle all your residential fencing needs.