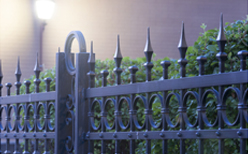 How to Find the Best Fence Company in Bloomington IL
There are many considerations that factor in your decision when you are trying to find the best fence company in Bloomington IL. Hohulin Fence wants to provide you with the reasons why we feel we are the best fence company for residential and commercial customers.
Experience – Hohulin Fence has served as a pioneering innovator in fencing products since 1897. Our fence company developed the first commercially manufactured chain link fencing fabric. We worked on some of the first overhead slide gates. Plus, we patented steel posts for chain link fencing. We can bring over a century over experience to your project.
Superior Products – Hohulin Fence offers a wide array of fencing products that we can customize to fit any property and budget. We offer aluminum fencing, wood fencing, vinyl fencing, and SimTek fencing. Plus, you get specialty fencing options like ornamental fencing, hot-wired fencing, dog fencing, and privacy fencing.
Fence Installation Services – Our contractors handle any project, no matter the size. We work on residential and commercial fencing installation, including highway guard rails.
Contact us now for a free estimate!
When Should I Call a Fence Company in Bloomington IL?
If you no longer love your fence, you may wonder if it is time to call a fence company in Bloomington IL. There are many warning signs that tell you that your existing fence will no longer offer you the performance you need. Let us know if you notice wear and tear or damage like the following:
Holes – Wood fences offer classic appeal and beauty to your home. However, wood fencing panels can fall victim to pest infestations, including termites. Therefore, your once lovely wood fence may now contain many unsightly holes. If that is the case, you need to replace that damaged fence.
Patchwork Look – If you have replaced fence panels piece by piece over the years, your fence can lose its beauty. Mismatched fencing panels may make parts of your fence look good, but parts still look in a state of disrepair. If that's the case, you can restore your curb appeal with a new fence.
Falling or Leaning Fence Panels – Your property lacks the privacy, safety, and security you want if part or most of your fence is falling down or drastically leaning inward or outward. However, Hohulin Fence contractors can address those problems.
Tree Damage – Your fence can take quite a beat if you do not keep tree roots, trunks, or branches properly maintained. All it will take is one bad storm and a branch can fall and destroy sections of your fence. Do your part by keeping trees trimmed properly. However, Hohulin Fence contractors can help if you already have extensive fence damage.
Contact Our Fence Company in Bloomington IL
Whether you are replacing an existing fence or have a new construction project, Hohulin Fence contractors can help. Contact us electronically to request a free estimate for your fencing needs. If you prefer, you can call 309-965-2241 to speak with representatives from our fence company in Bloomington IL. We can provide personalized services and customized products to fit the needs of any budget and property!