For fencing Normal, IL has Hohulin Fence to turn to.
From your ideas to our designs, we provide high quality fencing products. This includes our railings, gates, paneling and more for the people and businesses of Central Illinois. We are a family-owned business, and our goal is to always offer exceptional products as well as outstanding service. This is because it's the Midwest way. Consequently, it's the Hohulin way. Therefore, you can count on us to provide commercial and residential fencing Normal, IL can depend on.
Fencing Normal, IL Trusts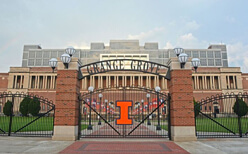 Whether you need to guard your property or a fence that matches your style, Hohulin offers a number of commercial and residential fencing options. Our Normal, IL customers rely on us for:
Commercial Products
Hohulin Fence has supported businesses in Normal for over a century. We do this by providing high quality fencing, gate and railing products to our valued customers. Decoration and security are our specialties, and you can trust us with:
Commercial Fencing Products
Related Fencing Products
We are also a LEED-certified business. We utilize recyclable products whenever possible in all our projects. All steel fencing products are made with 100% recyclable materials.
At Hohulin, we are proud to do our part with green initiatives like these.
Residential Products
In addition to our commercial products, you can trust Hohulin Fence to protect and decorate your home. We have been helping Midwest homeowners with their fencing needs for over a century. As a result, from fencing to gates to residential kennels, we have your fencing needs covered!
Residential Fencing Products
Related Fencing Products
Contact Hohulin Fence Today!
In conclusion, for fencing Normal, IL residents can depend on, choose the reliable name in fencing. Choose Hohulin Fence. Call us at 309-965-2241 or contact us online today!