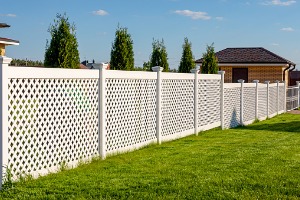 Spruce Up Your Home with Residential Vinyl Fencing in Peoria IL
Homeowners throughout the Midwest enjoy the privacy, comfort and beauty a fence offers their home. However, how do you know you're picking the right fence for your property? Thankfully, the trained fence experts at Hohulin Fence can help you pick out the perfect fence for your front or backyard. One such style, residential vinyl fencing in Peoria IL, is an incredibly popular choice for those updating or installing a new fence.
Why Vinyl?
You've most likely heard of vinyl before, as it's the material of choice for many exterior renovation projects. And as many folks use vinyl for their siding and windows, vinyl fencing becomes an obvious option. If wishing to install a vinyl fence, here are some of the benefits you can look forward to:
Durability – If looking for a fence material that withstands most force or pressure, vinyl is an excellent choice. Not to mention, vinyl is not vulnerable to weather and insects as much as wood can be. While a wood fence runs the risk of rotting or deteriorating, no such issue exists with vinyl.
Flexibility – Not only are the actual panels of vinyl flexible when installing, but the nature of vinyl fencing itself is flexible. There are dozens of different styles, sizes, colors and designs to choose from when installing new vinyl fencing. Hohulin fence can help you pick out a fence that's perfect for your home.
Maintenance-Free – Once your residential vinyl fencing in Peoria IL is installed, there's little else you have to do. Vinyl fence installation is simple, and once up, there's little maintenance necessary for your fencing. Aside from the occasional clean, you don't have to worry about the upkeep of your fence.
Low Cost – Compared to other fencing materials, vinyl fences are one of the most affordable options. The material is relatively affordable, while installation is quick and straightforward, meaning a lower cost for work. And the strength and maintenance-free nature of vinyl mean little to no money spent on care or repairs.
Our Products
Of course, as great as vinyl fencing can be, it's not for everyone. Thus, Hohulin Fence offers an incredible selection of fencing products for both residential and commercial properties. For example, we can sell, install or repair:
Residential :
Commercial :
Contact Us
For the best available residential vinyl fencing for Peoria IL, you can count on the fence experts at Hohulin Fence. To learn more or to request a free estimate, contact us today at 309-965-2241. Also, we are located at 116 Harrison St, Goodfield, IL 61742.