One of the Best Fence Companies in Peoria IL
If you have been searching for the best fence company around, look no further than Hohulin Fence. We are one of the best fence companies in Peoria IL. We take pride in the fact that we were the first in the country to manufacture chain link fence fabric commercially. Not only are we local, but we're also experienced, dependable and reputable. Make the smart choice and give Hohulin Fence a call the next time you need anything for your home or business.
Our trusted family-owned business has been in operation since 1897. Learn more about us here.
You'll see that our company was created by brothers Sam, Tim and John Hohulin, sons of Gottlieb Hohulin. From vinyl fencing to ornamental fencing, we are respected manufacturers of fence products for commercial use and residential use. With a history of service spanning more than 120 years of quality fencing, you will love our stellar craftsmanship and products.
Product Offerings in Peoria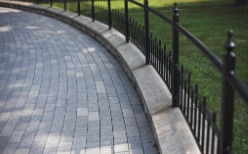 Here's a look at how we can enhance your home or business landscape with extra security, aesthetics and safety.
For example, our residential products in Peoria include:
Additionally, our commercial products in Peoria include:
Hohulin Fence is a LEED-certified business. As an environmentally-conscious company, we are devote ourselves to using recyclable products whenever we can. We make all our fences with 100 percent recyclable materials. Our headquarters is located in Goodfield and we offer services to all surrounding communities, including Peoria.
Contact Hohulin Fence in Peoria IL
To learn more about our fence company in Peoria IL and what we offer, contact us at 309-965-2241. You can also email us at info@hohulinfence.com.