Company Near Me for Fence Installation in Bloomington IL
There's a reason why more McLean County commercial and residential clients trust Hohulin Fence for fence installation in Bloomington IL. After all, our company has served as a pioneering innovator of the best fencing products since 1897. From outdoor recreational areas to homes to commercial properties to highway guard rails, we handle all kinds of fence installation projects. Give us a call when you need any of the following fencing products:
Our tradition of excellence began with our reputation for designing and manufacturing advancements in the fencing industry. In fact, our company is credited as the first to develop commercially manufactured chain link fencing fabric. Plus, we developed some of the first overhead slide gates and patented steel posts for chain link fencing installation. We bring that same history of success to each of our projects for fence installation in Bloomington IL.
We invite you to contact us for any answers to questions about our company or our products. Also, we provide free estimates on request.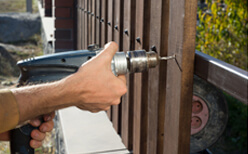 Why Should I Choose Hohulin Fence for Fence Installation?
Hohulin Fence contractors provide you with many benefits that cannot be beaten when it comes to fence installation in Bloomington IL. As a local company, we take pride in providing products and services that offer more return on investment to friends and neighbors in our community. In addition, we offer our clients the following:
Personalized service
Affordable pricing
The best fencing in Bloomington IL
Environmentally friendly solutions
Fast and convenient fence installation
A wide variety of products
Free estimates
Are You On the Fence About Getting a Fence?
You can add a lot of value and realize many benefits to your residential or commercial property with Hohulin Fence installation in Bloomington IL. Some of the top reasons you should consider installing a fence include the following:
Security – Property crime rates continue to rise across Central Illinois. One way to keep trespassers and criminals off your property is to install a secure boundary around your property. Hohulin Fence can help with fence installation in Bloomington IL.
Safety – If you work or live on a busy street, your property can experience many threats to the safety of children, pets, employees, and customers. However, you can keep people important to you safe from traffic, criminals, and other safety threats with fencing.
Privacy – You can keep your private gatherings or business meetings more private with fencing. In addition, a new fence can eliminate some of the noise distractions you receive from traffic or neighboring properties.
Value – Residential and commercial property owners alike can benefit from an increase in property value with fence installation in Bloomington IL. Many home buyers include fencing as a must have nowadays on their wish list. Meanwhile, many businesses value fencing now more than ever due to increased security risks.
Contact us for Fence Installation in Bloomington IL
Hohulin Fence contractors can bring superior craftsmanship, workmanship, and products to your project. Contact us online now for a free estimate. If you prefer, you can also reach us by calling 309-965-2241 to speak with our friendly representatives. We look forward to providing you with fencing that will last and perfectly complement your home or business.