Companies Near Me that Install Fencing in Champaign IL
Avoid the stress of a do-it-yourself project by hiring Hohulin Fence contractors to install your fencing in Champaign IL. Our company specializes in the sales and installation of vinyl, aluminum, and wood fencing. We also can supply you with specialty solutions such as temporary fencing, dog fencing, privacy fencing, railings, gates, operators, and even highway guard rails. Whether you need residential chain link fencing or commercial fencing, we are the company to call for the best fencing in Champaign IL.
The innovative minds at Hohulin Fence have developed some of the finest products since we opened our doors in 1897. Our developers get credited for creating the first commercially manufactured chain link fabric in the United States. In addition, we patented steel posts for chain link fences and worked on some of the first overhead slide gates ever made. In the 120 years since then, we have gained a reputation for providing superior fencing products and services.
If you need a custom solution, consult with our fencing experts for a design catered to your needs. If you already know what you need, request a free estimate now.
Vinyl Fencing
You may have noticed more and more neighbors and businesses around town are choosing vinyl fencing in Champaign IL. After all, vinyl fences do not require the painting, staining, and painstaking hours of maintenance that wood fences do. In addition, vinyl fences offer the following benefits:
Resistance to fading, peeling, and rot
A wide selection of styles and colors from which to choose
Fencing that lasts for decades
Incredible durability and strength
Matches different aesthetics and landscapes
Eye-catching curb appeal
Enhanced property value
A boundary that keeps pets, children, and visitors protected
Aluminum Fencing
If you want to save a few bucks, consider installing our affordable aluminum fencing in Champaign IL. With aluminum, you get a fencing solution that gives you all the durability and strength of high-end metal, wood, or vinyl fencing without the added cost. Unlike high-end metals, aluminum fences do not rust. Plus, aluminum fences require less maintenance and will not get damaged by termites like wood fences. Also, you gain more flexibility with aluminum fences if you have a property with unique contours or rising or falling slopes. Aluminum panels can get shaped to fit whatever boundary line you need.
Wood Fencing
Though there are lots of options, many of our customers still prefer the timeless appeal of beautiful and aromatic wood fencing in Champaign IL. We offer the following varieties of wood fencing:
Our wood fence products offer great value because they provide a long-lasting solution. Preservatives driven deep into wood fibers during the manufacturing process of our treated wood fencing makes it extremely resistant to damage. In fact, our treated wood fences are resistant to fungi, termites, and weather damage. Meanwhile, our western red cedar fences come with natural tannins that repel pests like mosquitos and bugs that can bother you during outdoor cookouts. Consequently, you and your guests can enjoy your outdoor living spaces a little more without the worry of being bitten or stung.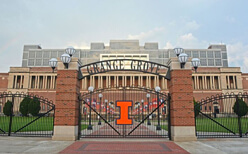 Contact Us for Fencing in Champaign IL
Count on the experts who have served for more than 120 years as industry leaders for fencing in Champaign IL. Hohulin Fence contractors are the local professionals to call for superior fencing products and services. Contact us today to ask for a free quote for your fencing needs. If you need recommendations, consult with our fencing specialists now by calling 309-965-2241.