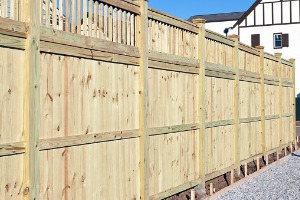 Conceal Your Backyard with a Privacy Fence in Champaign IL
We all enjoy the privacy and comfort of our home. And with the right weather, your backyard can offer a relaxing getaway of your own. However, that solitude can quickly be interrupted with noisy traffic, nosey neighbors and an unobstructed view of the homes around you. If you genuinely want to turn your backyard into a place to quietly "get away," you need a privacy fence in Champaign IL. And no one offers better fencing products and installation than the team at Hohulin Fence.
For over a century, Hohulin Fence has served residents and businesses throughout Central Illinois. In fact, we were the first company in the US to offer chain link fencing to our clients (starting in 1904). Our vast knowledge and experience have led us to become the go-to fencing company for Champaign, Peoria, Bloomington, Springfield and the surrounding areas. So, when you need privacy for your backyard, we've got you covered!
What You Get Out of Your Privacy Fence
From peace of mind to a quiet space, privacy fencing will change the way you view your backyard (literally and figuratively). And while you may think a privacy fence is only suitable for one thing (your privacy), you'd be surprised to learn of some of the other benefits of this fencing product.
Noise Reduction

For those homes alongside a busy intersection, the constant whoosh of vehicles rushing by can get on anyone's nerves. And especially if you're trying to enjoy a quiet moment outside, you'll never find peace! That's where privacy fencing comes in. A privacy fence not only obstructs the view of your yard but works to dampen noise from the outside. You'll soon find yourself enjoying the calm and quiet of your backyard.

Increased Security

Ideally, a privacy fence will deter neighbors from intruding on your personal time. However, more important might be the deterrent that privacy fencing provides for would-be intruders. Safewise, a site for home security, mentions the use of "strong fences" to prevent a potential burglary. An intruder might deem it more effort than it's worth to scale your fence to get into your home.

Safety for Children and Pets

Letting your kids or pets run around your yard is an excellent way to help them burn off some energy. However, leave it to children or dogs to wander where they're not supposed to. And as well as you keep track of them, your kids and pets will find a way to escape your watchful eyes. So, why not have a fence installed for your yard? You can keep you, your children and your furry friends safe and in one place.
Our Products and Services
Alongside a privacy fence for Champaign IL, Hohulin Fence can supply you with various other fencing products and services. Whatever style and material you prefer, we have the fence for you. For example, we offer:
Commercial
Residential
Give Us a Call
A privacy fence in Champaign IL is ideal for more than just your privacy. To learn more about our fencing and services, call Hohulin Fence today. You can contact us at 309-965-2241 for a free estimate. Also, we are located at 116 S Harrison St, Goodfield, IL 61742.