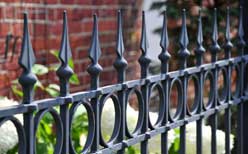 Companies Near Me that Install Fencing in Decatur IL
Hohulin Fence provides superior products and services for commercial and residential customers seeking fencing in Decatur IL. We specialize in the sales and installation of aluminum, vinyl, and wood fences. In addition, our company also installs specialty solutions such as dog fences, privacy fences, gates, operators, and railings. Whether you need fencing for your home, business, an athletic field, or highway guard rails, we can help.
Hohulin Fence has provided some of the most innovative fencing solutions since we opened for business in 1897. In fact, we are credited as the first company to develop commercially manufactured chain link fence fabric. In addition, our company worked on some of the first overhead slide gates ever made and patented steel posts for chain link fencing. Since that time, we have faithfully provided some of the best fencing products and services to customers across Central Illinois.
If you need recommendations, consult with our fencing contractors that have served at the forefront of the industry for more than 120 years. Fill out our convenient online contact form today to request a free estimate.
Aluminum Fencing
For one of the most affordable solutions, consider our aluminum fencing in Decatur IL. These fences give you all the strength and durability of high-end metal, wood, and vinyl fences without the high price tags. Also, aluminum is not a ferric metal. Therefore, you receive a fence that will not rust when it ages, unlike iron. Since aluminum panels are rackable, you also can customize them during the installation to fit the rising or falling slope on your property. Therefore, they offer you one of the best solutions if your property features unorthodox boundaries.
Vinyl Fencing
You get the most customizable aesthetic features with our vinyl fencing in Decatur IL. We offer products that come in several different dynamic styles and vibrant colors. That way, you can perfectly match your fencing to the rest of the look of your property. Also, vinyl fences will not rust or sustain damage from pests such as termites or weather-related erosion of materials. Consequently, you get a solution that looks great and lasts a long time, too! In fact, many customers tell us the time they save on maintenance more than makes up for a little added cost when it comes to vinyl fencing.
Wood Fencing
If you want a more traditional appearance, you should consider our aromatic, beautiful, and durable wood fencing in Decatur IL. We offer the following varieties of wood fencing:
Our wood fencing products deliver the benefit of a long-lasting solution. Cedar fences feature wood with natural tannins that repel pests and offer easier temperature moderation in your outdoor living spaces. Meanwhile, our other wood fences feature preservatives driven deep into fibers of the wood that allow them to hold up better and longer. So, you can count on our wood fences to be resistant to termites, fungi, and weather damage. As a result, you should think about our wood fencing to get tremendous value for your investment.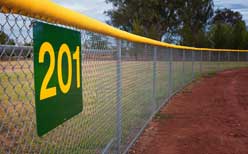 Contact Us for Fencing in Decatur IL
Count on one of the most innovative local companies around when you need fencing in Decatur IL. For over 120 years, Hohulin Fence has provided some of the best fencing products and services throughout Central Illinois. Contact us now to request a free estimate for your fencing needs. If you need suggestions, give our fencing experts a call now at 309-965-2241.